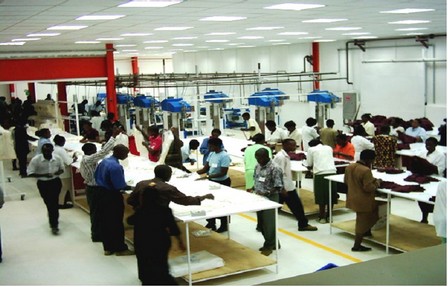 United Aryan (EPZ) Ltd - Highlights
Young but experienced promoters from established business backgrounds
Established players in garment industry with expertise in sourcing and selling
Ready orders and markets
Financially sound and stable group
Industry Certified production standards
Professionally qualified and experienced management team
Already established group in Africa
Easy global access from Dubai (UAE)
Non-polluting industry – hence no environmental issues
Future Plans
The company started with 1 unit of 17 lines, and in mid 2006 capacity was enhanced to 38 lines when the 2nd unit was taken up.
Plan towards Vertical Integration:
Textile Mill: We are working on a vertical integration program wherein we will be setting up a yarn to finished Denim fabric plant with 2 million per month monthly capacity if U.S.A market stabilizes, Have already worked the numbers & details.

Dyeing & winding unit of color threads as color threads is the basic raw material for the flourishing garment industry in Kenya.

Moulding Hangers & Manufacturing Cartons.

Making Woven / Printed Labels inhouse

They still wish to continue strengthening this business if enough sales are there & have the capacity to do double digit growth is very short time, the intention behind the business is to Create as many jobs possible but next goal is to have at least 10000 direct Jobs created in near future which means 100000 people get meals every day due to our project, as in Africa the ratio of one direct job to dependents / indirect jobs is 1:10
This itself is a big motivation to develop this business even though we have realized that this cannot be a profitable venture, but with Grace of God the other business in the group are doing well so we can support this as a service to Humanity.
It is our appeal that buyers should also support the cause by placing continuous good qty business & we assure that we will servicetheir orders very professionally as we have been doing & provide them extremely competitive prices as we do realize it is.