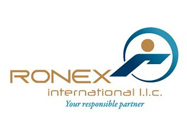 Ronex International was founded in Dubai ( U.A.E) by its existing CEO "Pankaj Bedi" in 1992. From a humble start as a trading company it has risen to be a diversified company dealing in Metals - Agro Commodities – Lubricants – Garments - FMCG products- Pharmaceutical Products, and has presence in Africa - Middle East - U.S.A - Asia & Far East.
The company has global network of relationships (suppliers & customers) and every business of the company has its independent management and capital base. Each division is headed by young self-driven team leaders who have sufficient experience to guide the company to greater heights.

The company's single minded commitment to create quality, pursue product excellence and continuously improve its services has made Ronex different than the competitors.

Ronex is a customer-friendly enterprise where everything is done keeping the customer in mind, their interests and their satisfaction.

Ronex is among the leading job creators in Africa and employs more then 10,000 across the different businesses it conducts in the region.

With its strong foundation Ronex has reached to this level and continues to strive to reach greater heights.

Chosen Products are:
Commodities: Cotton, Cashew, Teak, Spices, Tea, Coffee, Rice and Sesame.
Machinery: Textiles, engineering, Beverage Packing System, food processing, Hospitals.
Farming machinery, Tractors, tools and equipment's.
Solar / Lighting Products and Poles.
Air conditioners.
Automobiles Tyres.
Pre Fab.
Scrap Metals.
Generator of all capacities.
Pharmaceuticals: Both allopathic and Ayurveda medicines.
Petro Chemicals: Industrial lubricants, Fuel Oil and Bitumen.
Garments: Men's, women's and children apparels including knitted wear.
Project management on turnkey basis.